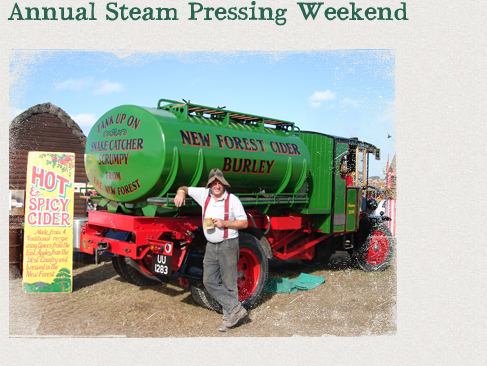 Unfortunately we have had to cancel for October 2020
We hope to be back bigger and better on 16th & 17th October 2021
Our annual open weekend is a chance to see cider making as it was done in days gone by. We shall be demonstrating the art of cider making the with a variety of vintage presses, ranging from a 'workman' steam driven mobile press to the simplicity of a hand operated twin screw press using straw as a filter, then sample the finished product in our farm shop or from the thatched cider trainer. There will also be traditional country craft demonstrations, food stalls and of course The Skimmity Hitchers bringing their own brand of Scrumpy & Western music to entertain the crowds.
Admission £3 - children under 14 free
11am - 4.30pm
Parking in village centre with free tractor & trailer rides to the farm
All profits divided between local charities and community fundraising projects.