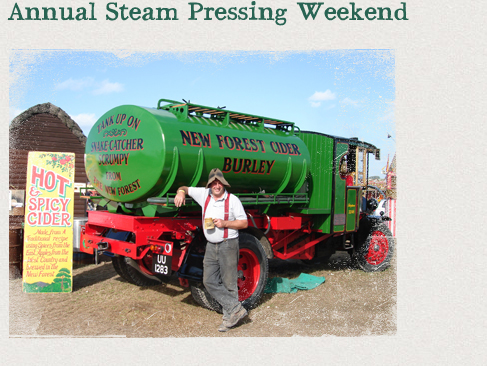 Our annual open weekend is a chance to see cider making as it was done in days gone by. We shall be demonstrating the art of cider making the old fashioned way with a variety of vintage presses, ranging from a 'workman' steam driven mobile press to the simplicity of a hand operated twin screw press using straw as a filter, then sample the finished product in our farm shop. There will also be traditional country craft demonstrations including:
2014 Dates
18th & 19th October 11am - 4.30pm
Hurdle Making and Wood Turning
A Blacksmith and Basket Maker
Steam engine and Tractor Displays
Swing Boats and Coconut Shy
Steam Driven Sawbench Demonstrations
Our Cider Pantry tearooms will be transformed into a Food Court for the weekend with BBQ, ploughmans, cream teas and hot soup amonst the offerings.
Hog Roast from the New Forest BBQ Company
Parking in the village centre with free tractor and trailer rides to and from the cider farm.
Adults £2 - Children under 14 free
The profits from last years event was donated to Julia's House Children's Hospice and the fundraising team for the local First Response unit which provides vital medical support for the village.
Also: traditional fairground attractions, museum pieces,
 Foden Steam Lorry, table top steam engines, cider through
the ages and apple displays.
Entertainment by The Skimmity Hitchers will have your toes tapping throughout the weekend!
If you would like any further information on this event please call us on
01425 403 589 or email us on info@newforestcider.co.uk