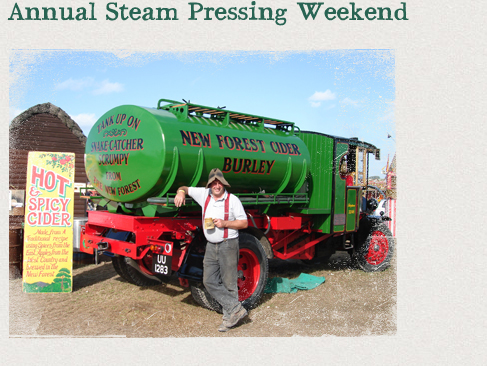 Our annual open weekend is a chance to see cider making as it was done in days gone by. We shall be demonstrating the art of cider making the old fashioned way with a variety of vintage presses, ranging from a 'workman' steam driven mobile press to the simplicity of a hand operated twin screw press using straw as a filter, then sample the finished product in our farm shop. There will also be traditional country craft demonstrations including:
News for 2015
Our annual Steam Pressing and Open Weekend has proved extremely popular over the past eleven years and we have enjoyed welcoming so many visitors to us from far and wide.
Whilst we really love hosting the event we have decided that this year would be a good year to have a little break, giving us time to reinvent and invigorate our little show ready for a truly exceptional 2016. We hope to welcome you all again in October 2016 and will post any further details about our event as soon as we have them confirmed.